Check
One thing off the new year's to-do list that is!
Below are the after and before pictures of Chunky's room. I'm blogging from my phone and I can't reverse the order of the pics!
It took two weekends, and he did do a lot of the work (I just installed the  closet organizer come Nerf gun rack and assembled his new dresser (not pictured)), but I think it turned out pretty spiffy!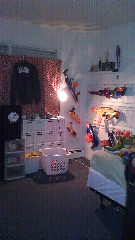 Labels: Chunky